Ettore Roesler Franz
The transformation of the urban area, which became increasingly intense after 1870, the implementation of the 1883 Regulatory Plan and the tumultuous building activity led to the destruction of many historic buildings, villas and gardens. As large areas of land were excavated, archaeological finds and traces of a complex urban stratification dating back thousands of years came to light. This led on the one hand to the need to document the continuous archaeological discoveries and on the other to preserve the memory of a city that was losing its centuries-old physiognomy.
It was at this time that the Capitoline Administration, in an effort to preserve the evidence of a Rome that was disappearing, commissioned numerous photographs to be taken in the areas of the city most intensively affected by the work, and between 1883 and 1908 acquired the 120 views of the pictorial cycle of the so-called vanished Roma sparita by Ettore Roesler Franz (Rome, 11 May 1845 - 26 March 1907).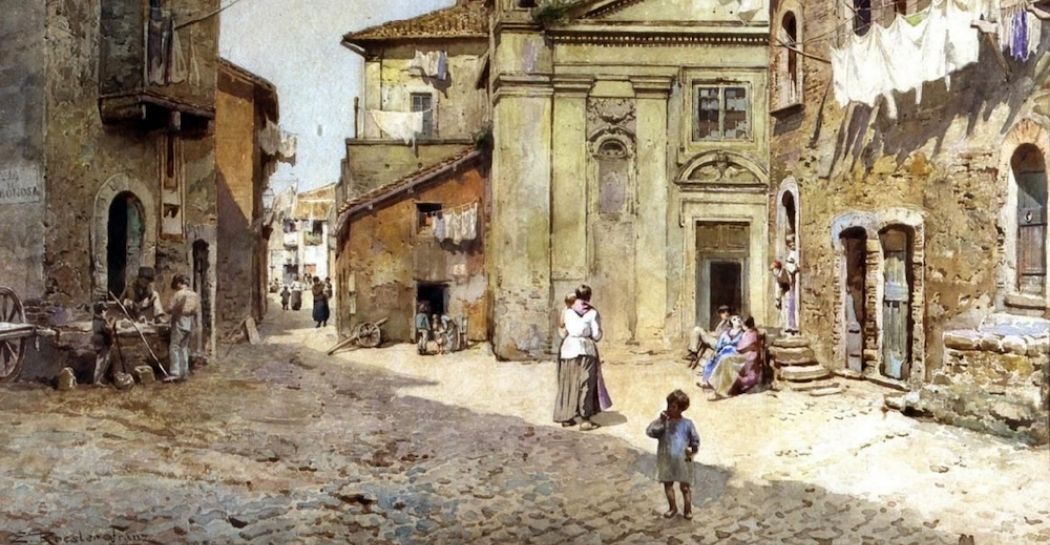 The series of 120 large-format watercolours - each measuring approximately 53×75 cm and divided into three series of 40 each, all painted between 1878 and 1896 - called by the Roman artist Roma pittoresca. Memorie di un'era che passa (Memories of a bygone era) constitutes a collection of extraordinary artistic and documentary value, preserving, in the views enlivened by scenes of popular life, the urban and architectural image of pre-unification Rome.
Along the gallery on the first floor, which bears the artist's name, an evocative exhibition itinerary unfolds, narrating the Tiber, the city's beating heart. Along its banks enlivened by the feverish activity - from Ripetta to Ripa Grande - Ettore Roesler Franz's passion for the city is affirmed, fixed by a careful research of colours and light effects, the virtuosity of architecture accompanied by the melancholic fascinations of the alleys where all sorts of furnishings hang between towers and rows of houses, up to the Tiber river where the turbid waves lap the walls.
In order to allow visitors to see all the watercolours that make up the entire series, a multimedia station (touch screen) has been set up with the 119 watercolours including explanatory cards and the relevant thematic details.