The fish market
From the beginning of the 1800s fish was sold in Rome, not just in Portico of Octavia, but also in the Piazza del Pantheon, in the Via del Panico, and in the Corso. Public opinion everywhere was that the banks of fish stalls were a threat to the many illustrious monuments they occupied.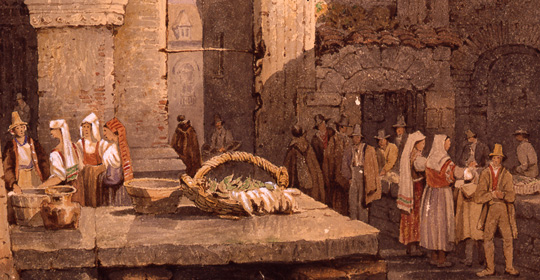 To safeguard the decoration of the Pantheon, Pius VII (1800-1823) had a new fish market constructed in the Via delle Coppelle (permission for the construction was granted in 1821), at the same time forbidding the selling of fish anywhere else, except in Portico of Octavia and in the two Piazzas of Monti and Scossacavalli (the latter subsequently disappeared due to the demolition works necessary to create the Via della Conciliazione).
After the unification of Italy it was decided to move the fish market from the Portico of Octavia to Piazza S. Teodoro. The fish was brought into the city through the Porta S. Paolo and Porta Portese, and the new location of the market meant that the fish no longer had to be transported through the city.
The new market (which was designed by Gioachino Erzoch, who also oversaw its construction) was equipped with shops, podiums for the auctioneers, a street for the wagons to pass down, night time illumination, as well as a tight plumbing system and improved sanitary conditions.
The fish market was particularly crowded on Christmas Eve, due to the traditional requirement that dinner on Christmas day should be based on fish and green vegetables.
The fish was sold wholesale (known as "cottio" from the medieval latin word "coctigium") from the earliest hours of the morning, and the selling was done as an auction, as was the tradition. Slang terms were developed for the auction, which were comprehensible only the auctioneers and to the buyers: retailers, innkeepers, and the cooks of the great Roman families. In the end the whole process became a sort of spectacle, enjoyed by the nobility, Roman and foreign, who, if the night was beautiful, did not neglect to visit.
Samuel Prout (Plymout 1783 - Camberwell (London) 1852) was a painter of views, mainly in watercolour. He was a painter with a taste for journey and often painted churches and market places. He lived in Italy in 1824.