The building
The Museum of Rome in Trastevere is situated in Piazza Sant'Egidio, in a historic building. Even the Piazza takes its name from the nunnery, which included the small church of Saint Egidio.
The earliest nucleus of the convent was founded in 1601 at the church of Saint Lorenzo on the Janiculum, which was later restored and dedicated to Saint Egidio, as a home for the religious order of Carmelite Nuns.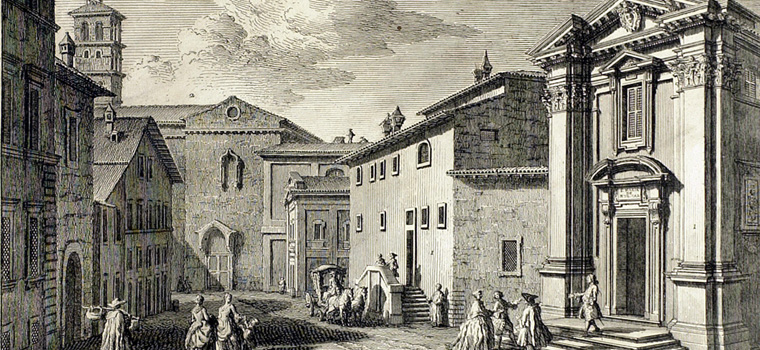 At the request of Vittoria Colonna, in 1628, Pope Urbano VIII gave to the nuns the churches of Saints Crispino e Crispiniano, property of the University of the Shoe Makers, and attached to the church of Saint Egidio. The latter was demolished and incorporated into the convent. The museum currently preserves, on the ground floor, the marble plaques of the University of the Shoe Makers, put in place in 1614. The church of Saints Crispino and Crispiniano was restored in 1630, decorated in marble by the military commander Filippo Colonna and, two years later, dedicated by the Pope to the Madonna of Carmelo and to Sant'Egidio. The sisters lived in the convent until the capture of Rome.
 The building became the property of the City of Rome in 1875 and from 1918 it housed the "Ettore Marchiafava" anti-malarial sanatorium for children. A marble plaque at the entrance to the museum, records the date at which the sanatorium was dedicated to Marchiafava, an illustrious doctor and senator of the realm, expert in malaria and, in 1918, the Officer for Hygiene. These were the years in which malaria was taking many victims from among the workers in the Roman countryside. The youths stayed in the Sanatorium for an average of two months, entrusted to the care of the governing doctor and the sisters of charity of San Vincenzo de' Paoli. The Sanatorium included a vegetable-garden and a small school.
 Between 1969 and 1973 the building was restored by the architects Attilio Spaccarelli and Fabrizio Bruno, who adapted it to house the Museum of Folklore and the Roman dialect poets, presenting material about Roman popular traditions from the Museum of Rome, which was then, and remains, in the Palazzo Braschi. The Museum of Folklore and the Roman dialect poets opened to the public on the 1st of February 1977.
 The Museum was recently restructured to make it better adapted to the current needs of the museum – which include space for exhibitions, shows and conferences. It reopened in 2000 under the new name of the Museo di Roma in Trastevere.